Personalize Your Place
Article was featured in Indy Star (Indianapolis, IN), Burlington Free Press (Burlington, VT), News-Leader (Springfield, MO), Clarion Ledger (Real Mississippi), Arizona Central (Arizona), The Spectrum (Utah) and the Courier-Journal (Louisville, KY).

by Missy Baxter

Inspired by the barrage of home-improvement television programs, many homeowners are breaking out their nail guns and dry-wall sanders to remodel kitchens, finish basements and build decks.

For many, the inspiration is cost savings. For other homeowners, such as Terry Ginkins, the main impetus is the ability to personalize the project.

During the past few years, Ginkins has completed several projects at his New Albany, Ind., home, including adding a large deck and remodeling his kitchen.

His most recent venture was to transform a small concrete patio into an area ideally suited for entertaining family and friends.

By incorporating an eclectic array of materials, including copper tubing, redwood railing and brick, Ginkins created a one-of-a-kind patio. The patio's unique railing system is an eye-catcher. The gleaming copper tubing sparkles in the sunlight and contrasts nicely with the deep, rich tones of the redwood frame.

"I wanted to do something different so that we'd have a patio that didn't look like anyone else's," Ginkins said. "It was a lot of work to do the railing, but I think it was worth it because I'm getting a lot of compliments on how well it turned out."

NOT YOUR EVERYDAY DIYER

Although Ginkins completed the work himself, he's not a typical do-it-yourself guy. He's a professional remodeler and former building commissioner for the city.

That's why he knows the proper steps to take to make sure his remodeling projects comply with local building codes.

For instance, he applied for electrical and plumbing permits for his kitchen remodel and a building permit for his deck. (His patio didn't require any permits because it wasn't a structural change.)

"I'm a strong advocate of abiding by building codes because I know why they are in place," Ginkins said. "I once had the unfortunate task of condemning a woman's brand new house because it wasn't built to code and it was unsafe to live in. Most people who are remodeling don't realize that permits are required for any structural changes."

FUELED BY TV

Charles Kavanaugh, executive vice president of the Home Builders Association of Louisville, Ky., said the remodeling industry has experienced a boom in the past decade.

"In 1996, the amount of money spent on home improvements and remodeling became larger than the new-home category," Kavanaugh said. "It's continued to grow every year since then."

Spending on home improvements in the United States rose 52 percent to $233 billion in 2003 from $153 billion in 1995, according to a 2005 report by Harvard University's Joint Center for Housing Studies. The most popular projects were kitchen and bath remodels or room additions.

Some building industry experts attribute the surge in remodeling to shows such as "Trading Spaces," "Extreme Makeover: Home Edition" and "This Old House."

"People watch those shows and realize that remodeling their home is usually a lot cheaper than buying a new house," Ginkins said. "You can really change your home by remodeling a room or two, or by adding a new addition or an outside structure, such as a deck.

"The catch is to make sure it's done right, and a lot of times that means hiring professionals, instead of trying to do it all yourself," he said.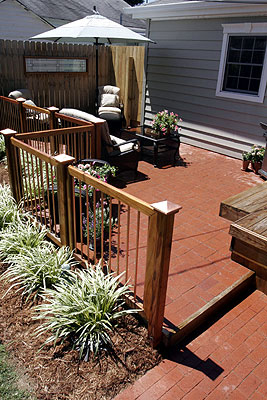 Michael Hayman/The (Louisville, Ky.) Courier-Journal

A brick patio was one of the renovations Terry Ginkins did at his New Albany, Ky., home. Many homeowners are remodeling areas of their home, inspired by the many do-it-yourself television programs.


Remodeling Tips:
Whether you're planning to do it yourself or hire a contractor to do remodeling work, here are a few tips:
Before you start
If you use an architect, a designer-builder or other professional, check references and require proof of liability insurance.
Discuss your budget, time frame and any warranties on the work.
Arrange an on-site conference with the contractor, job-site supervisor, designer and other key players. Take notes and set up dates for weekly follow-up meetings.
Contact your planning department or building division to find out if permits are needed and if plans comply with codes and regulations.
Notify your insurance agent about planned changes. If you're doing work yourself, make sure you have adequate liability protection.
During the project
To avoid dust and debris throughout the house, seal the work area with plastic sheeting.
Make sure inspections are completed by local building authorities throughout the remodeling process.
When it's done
Complete a walk-through inspection with the contractor, making a list of any items that need to be changed or completed.
Within a couple of months after the job is completed, make sure all systems are working properly. Make note of drywall cracks or nail pops. Contact the contractor promptly for follow-up repairs.
The Des Moines Register Source: Terry Ginkins, owner of T.A. Ginkins Co.; former building commissioner for New Albany, Ind
.